My page is getting a wee bit long. Here's a list of what you'll find below:
*Jenna on TV & Radio
*Fundraiser Continues! NOT over!
*My Story & Jenna's Cause
*My Trip to Parker Elementary to make apples & teach kids about AS
*The Gorgeous Apple my friend Bryan created for the cause in my name.
*Final Thanks
Jenna on TV & Radio
Watch Jenna do a live interview on TV!
Jenna was live on NYUDocs XM/Sirius Doctor Radio today (10/6). She was great!
Hopefully, we'll find out soon when it will re-air for those of you who missed it.
It's NOT Over Yet!
Though the Paint-a-Thon has come and gone (and was a huge success), Jenna is still painting apples! Crazy lady. The
matching grant
is in place until the end of October. For those of you I told the fundraising was over, I'm SO sorry, because I was completely off my rocker.
Apples for AS Paint-A-Thon
My name is Holly. I am 36 and have Ankylosing Spondylitis. Life with AS is hard - almost impossible at times. I am a wife, a mother to two active little boys, and run a small business, so with AS, I often find it hard to be "me."
It doesn't have to be like this
.
I am fighting for awareness. I'd like GPs to know more about the early signs of AS. 8-10 years for a diagnosis is unacceptable (I was lucky - took 10 doctors and 1 year). I'd like better medication. I'd like to know I've done all I can to prevent my children from ever feeling the pain I feel every day of my life.
For years, I learned all I could about AS and the desire to DO something grew inside me. Now I have that chance. I met an amazing woman, friend & artist named Jenna who, despite the agony and fatigue of AS, has dedicated an entire year of her life to painting an apple a day.
Every single day
! I do well to take a shower some days and here is this woman, putting her heart & soul into increasing awareness while using her incredible talent EVERY. SINGLE. DAY.
Her year-long project culminated in The Big Apple on 9/30-10/1 with the 24 Hour paint-a-thon. Because painting an apple a day for a year wasn't enough, our hero painted apples for 24 hours STRAIGHT.
This is event is fundraiser.
$20 of your $25 donation will go directly to the Spondylitis Association - a world leader in raising awareness for this crippling disease. A matching funds grant is in effect until the end of October which means that your $25 will result in $40 for this organization. And... you'll get one of Jenna's original apples created at the event!
Please consider donating to this cause so close to my heart.
Any donation will help, and will be greatly appreciated.
All my love & thanks,
Holly
AS APPLES & PARKER ELEMENTARY!
I'll tell you more about it soon, but I spent part of the day on Monday (the 26th) working with the talented children at Parker create Apples for AS -- apples that will soon be on their way to NYC! My son Kaden even stood up and helped me teach the class about AS! Special thanks to Ms. Mcintyre, Dr. Houlihan, and the AWESOME kiddos at Parker Elementary / a Grammy Award Winning Music Magnet school in Houston, Texas.
Update:
The kids at Parker made the front page of The Southwest News (local paper). I'm quoted too and they linked to www.spondylitis.org, which rocks!
Check it out (bottom left front page).
SPECIAL MENTION: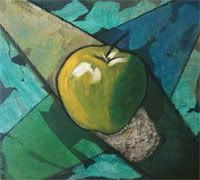 I have a GREAT friend named Bryan who happens to be an artist. I asked him to consider making an apple for our cause. He wasn't feeling well, but... well, see for yourself. He created a masterpiece! He captured the pain I feel, the hatred for the meds I have to take, yet somehow managed to project an overall feeling of hope as the light comes through what we see as a stained glass window. Bryan, I love you and Monique with all of my heart. Thank you!
Thank you!!!
I just wanted to take one more opportunity to thank you for your outpouring of support. As I said before, I love & appreciate all you've done - from my heart & my spine!!!
Coming Soon:
Quick list of links to AS sites, blogs & forums I love.